On Tuesday 23rd April 2019, Decolonise Sociology hosted an historic meeting between novelist and poet Jackie Kay and civil rights activist Angela Davis at the Cambridge Corn Exchange.
The conversation was chaired by Dr Mónica Moreno Figueroa, Senior Lecturer in Sociology and Race Equality champion at the University of Cambridge, who said in her opening: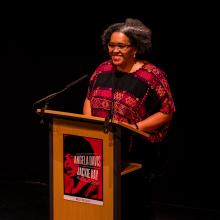 "This event is historic: two of the most powerful Black women speaking and writing today are addressing us here in Cambridge, in the largest venue we could find in town, which has never seen anything like it before."
"Both of our guests care about the world, they care about justice and they care about what living in freedom means. We can see their understanding of the difficulties we face as people and their exasperation in the face of oppression and injustice. Angela and Jackie have the amazing ability to move us, to touch us emotionally, to inspire us to act. They have found the most direct and persuasive ways to communicate what is important and they get heard. They guide us to move between everyday experiences and broader visions for a fair and kind world. They are powerful with their words, showing us different strategies to question, confront, intervene and change, within and beyond institutions, always alive to the connections between movements, working towards a politics of solidarity."
The event was hosted by Decolonise Sociology and the Office for the Vice Chancellor, and co-sponsored by: Centre for African Studies, Centre for Latin American Studies, Centre for Gender Studies, Faculty of Education, Faculty of History, POLIS, UCU Cambridge, Downing College and Lord Chris Smith, Master of Pembroke. Photography was by Chris Boland and filming by Absolute.
Watch on Youtube.