Earlier this year the Department of Sociology launched a new Photography Competition aimed at A Level and GCSE students.
The theme of this year's competition was 'What is Sociology?' and entrants were invited to send in a photo and an explanatory caption that considered this question. We were delighted by the response to the competition and received a large number of entries, with most entries also having a very thoughtfully reasoned caption. The judges selected a shortlist of two photos as well as the winning photograph.
If you enjoy thinking sociologically and are considering the subject at University, have a look at our pages for prospective applicants.
Shortlist:
Sian Leary "Socialised to gender stereotype" (Joseph Rowntree School, York)
The judges were impressed by the way Sian's photo captures the utilisation of gender sterotypes in body care products, and the association of different attributes to male and female products. Sian wrote: "The one we presume to be male has blue packaging and used 'ultimate' as an adjective, the female one has pink packaging and used 'beauty'."
Kieren Mitchell "School & Education" (Joseph Rowntree School, York)
Kieren's dynamic image was accompanied by a critical analysis of education as an agent of socialisation, describing the way that "the students are all in uniform and are all socialising, learning the norms and values of the school environment and being taught how to behave in the 'right' way by the hidden curriculum."
Winner: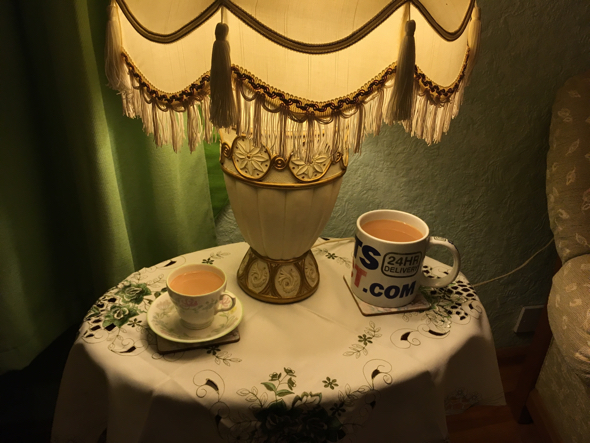 Aisha Peerbaccus "How can something as simple as tea be related to Sociology?" (Brynteg School, Bridgend)
This image can help explain the difference between the upper and lower class, the upper class (china cup) being the minority but powerful group of society and the lower class (sports direct cup) being the majority but powerless group of society. 
 Tea is also a social ritual and helps individuals express their "Britishness". For example individuals from the upper class can present their "Britishness" by going to afternoon tea, however individuals of the lower class may just go to their local cafe or have tea in the comfort of their own home by having a "brew". But these classes make this their ritual just express it in different ways. Also this could be a stereotypical generalisation that we may never know unless we have experienced it. 
Tea is also seen as a drug many people say they can't "function" without tea, but what does this really mean? They are addicted to it and that they can't live without it. Tea provides social and economic relationships to society by bringing people together and helping people financially. This is because it provides people with jobs in cafes to make tea allowing these workers to socialise with these customers. Also different brands in shops provide society with financial gain as individuals can make it in their own environment resulting in a beneficial economical and social society. - AP
The judges were unanimous in choosing Aisha's image and were impressed by the image's aesthetic merits and the thoughtful and interesting caption that accompanied it. Congratulations to Aisha, who will receive both the prize money and a visit to the University of Cambridge.
---
We will be running the competition again next year, be sure to sign up to our mailing list to receive alerts for the next theme and deadline!